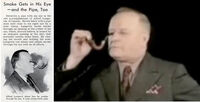 Alfred Langevin (Around 1885 - February 1974), AKA the "Eye Smoker," could smoke a pipe, play a recorder, smoke a cigarette, and even blow up a balloon through his eye. He would put a pipe in his eye and smoke would come out of the pipe, and out his mouth. He was married to his wife on June 26, 1909. He was from Canada.
Gallery
Videos
Sources
Ripley's Believe It or Not: Encyclopedia of the Bizarre
The Life and Times of Robert Ripley
Community content is available under
CC-BY-SA
unless otherwise noted.