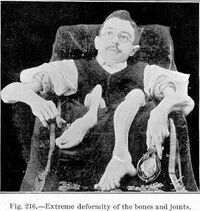 Ivannow Wladislaus von Dziarski-Orloff (1864 - 1904) AKA "Count Orloff," "The Only Living Transparent and Ossified Man," or "The Human Window Pane," was transparent and he was also believed to have been ossified. It is unclear if he was ossified or not. He was born normally in Budapest, Hungary, but by the age of fourteen, he began to lose his strength. He eventually could not even stand. He started to be in pain all the time, so he started using an opium pipe. What was even stranger about him was that you could see through him. You could see al his blood circulating and if you held a newspaper with a flashlight behind him, you would be able to see it through him. In his later years he owned his own successful sideshow business.
American Sideshow: An Encyclopedia of History's Most Wondrous and Curiously Strange Performers
Community content is available under
CC-BY-SA
unless otherwise noted.