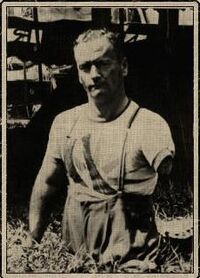 Richard Daniel "Dick" Hilburn (January 15, 1918 - February 24, 1976), was born in Bladenboro, North Carolina. He had no limbs except one arm. He used a custom-made skateboard for moving. He ran his own sideshow with Carl Norwood, also known as "The Frog Boy". There he worked not only a freak, but a tattoo-artist and a billboard-painter too. He had great business sense, and did not hire a showman - he presented himself. During an off-season, he and Carl worked in a diner. Dick even got married to a normal woman, and ran his sideshow till his death in June of 1971, when he was 53 years old. Carl was now the only freak on the show, and was presented a short time by Dick's widow. Carl later moved to another show, retired, and died in 1976.
Unclear Information
Edit
It is unclear when he was born and died. I have heard that he was born January 18, 1919.  He died in June of 1971.  He ran his own drive-in style diner and painted signs.  He even painted signage on transfer truck containers.  He was raised to be independent and there was very little that he could not accomplish.
Community content is available under
CC-BY-SA
unless otherwise noted.