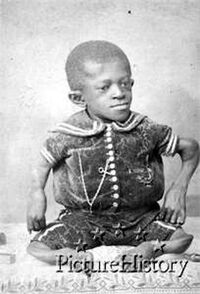 George Williams (1859 - ???), AKA "The Turtle Boy" or "King Dodo," suffered from parastremmatic dysplasia, which is a severe form of dwarfism that twists and deforms the limbs.[1] He was born in Hot Springs, Arkansas.[2] He was called turtle boy because his feet resembled flippers of a turtle. He was severely deformed in the legs and arms.
George earned $75 a week, which wasn't as much as other performers despite that he was one of the most popular. When he was very famous he was just a kid. When he got old he started being called "King Dodo" and was still performing at sideshows. It is unknown when or how he died.
↑

American Sideshow: An Encyclopedia of History's Most Wondrous and Curiously Strange Performers
Community content is available under
CC-BY-SA
unless otherwise noted.