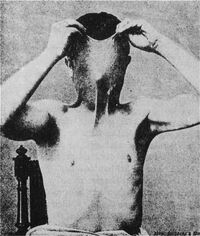 Herr Heinrich Haag AKA "The India-Rubber Man," could stretch out his skin very far. He could stretch his skin on his sides out to make him look like a bat. Heinrich was from Munich, Germany. He could pull most of his skin about 7 inches.
Stretchable
Edit
He could...
Stretch his nose down to his chin
Mask his face with his neck skin
Stretch his eyelids over his cheeks
The Boston Medical and Surgical Journal
Community content is available under
CC-BY-SA
unless otherwise noted.