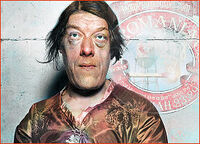 Mary Ann Bevan (December 20, 1874 – December 26, 1933), AKA "The Ugliest Woman in the World," was known for being one of the worst looking women ever. The reason she had this ugly appearance is because she had Acromegaly, a disease making you grow rapidly. Mary was married at age 3s, the same year that she started getting symptoms of the disease. When Mary died, she weighed 168 lbs and was 5 feet 7 inches tall, which was short for someone with acromegaly.
Biography
Mary Ann Webster was born in London, England, as one of 8 children in 1874. She worked as a nurse on her earlier years, and married a greengrocer Thomas Bevan in 1903, thus getting the full name of Mary Ann Bevans. The symptons of Acromegaly started shortly after marriage. The disease not olny causes abnormal growths, but also headaces, muscle pain, and failing eyesight. But that didn't stop her from having 4 children. Thomas died in 1914.
  Wishing to find income for her family of 5, entered an "Ugly Woman" contest, and won. She was then hired as a sideshow preformer by Sam Gumpertz in 1920's. He worked Coney Island Dreamland Show, and Ringling Bro's. Her sideshow career continued until her death on December 26. 1933.

Gallery
Sources
Community content is available under
CC-BY-SA
unless otherwise noted.