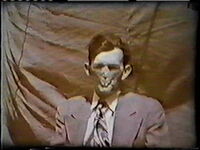 Sam Alexander (??? - 1997), AKA "The Man with Two Faces," was born a normal man. In his twenties he was pursuing a career in theatre and was an average man. When he was in his thirties, he lit a match near gasoline and he received deep burns throughout his face. Doctors had to cut out the parts of his face that were burned leaving not a very good looking face. He then got a prosthetic face which, in the right light, looked perfectly normal. He is remembered by his friends as a very nice man, unlike many other freak show performers. He was involved with Ringling Bros, Barnum & Bailey, and the Clyde Beatty Circus, and later started his own sideshow company. After over seventy operations on his face, although it never looked the same again, he retired wearing his masked and lived a normal life. He passed away in 1997 of natural causes. The screenshots are taken from a video entitled "Russell Bros. Circus 1940's" which was sold on ebay.
Community content is available under
CC-BY-SA
unless otherwise noted.