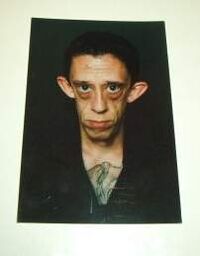 Tallon Crawford (March 01, 1975 - present), AKA "Bat Boy" or "the Outcast," is 3 and a half feet tall and had an off looking face resembling a bat. He has done several modern-day sideshows. He is currently retired from sideshows. As of 2005, Tallon is currently living in Washington with wife, Roxey, and their daughter. His marriage and child are the reason he is not doing shows anymore.
Community content is available under
CC-BY-SA
unless otherwise noted.